Services
Looking for an internship, an accommodation or an experience abroad ?

Let's not waste time pointlessly seeking companies which do not even condescend to give any answer. Forget wasting time looking for accommodations and fall on suspicious owners. It's not worth spending whole days searching for information about your destination country. Do not stress over !

Internship Makers, creator of customised internships will take care of everything for you !
Internship Makers is an international agency specialising in finding internships and accommodations abroad. Our dynamic and multicultural team strives to provide you custom-made solutions tailored to fit your needs to ensure you an unforgettable stay.
Internship Makers means high quality
Our top flight professional recruitment agents will pinpoint for you an internship that matches your expectations and your profile for the desired destinations (London, Malta, Australia, Paris, Madrid, New York, Barcelona, Santiago de Chile etc.).
We offer a wide spread choice of top flight internships in many fields :
Management internship
Marketing internship
IT internship
Communication internship
Finance internship
Accounting internship
Medical and Health internships
Tourism Internship
Catering internship
Hotel Internships
Event and Show Internships
Public Relations internship
Broadcasting internship
And many other…
Guaranteed accommodation
Internship Makers realized that finding an accommodation abroad on its own can be very complex and without any warranty (dishonest landlord, poor-quality accommodation…). Rest assured, we will select accommodations to suit your budget and your criteria; everything from your own personal apartment, shared living, or even with a host family to travel worry-free. We will do all that we can to make your stay as hassle free and without stress as you deserve.
All accommodations are fully equipped and furnished, what makes you feel at home !
Personalised support service

Right from the start of your registration until the very end of your internship, Internship Makers fully guarantees a high-quality service of personalised and full service support assistance, always available, wherever you are.
We guarantee to find your internship, an accommodation that suits you, we review your resume and we coach you before each interview with our partner companies to ensure your success.
Before your departure we will send you a guide about your chosen destination (maps, tips, important addresses…). Once there, we get you in contact with other students, organize activities and of course we check that your stay runs smoothly.
We know it is difficult to go abroad on its own, but thanks to Internship Makers you are not alone anymore, you can contact us for any request or emergency and we will gladly help you. What could be more reassuring for parents ?
Moreover, we're also ready and able to assist you in all your administrative steps: scholarships, social security, visa's, insurances…
Our Flexible Service
Our Flexible Service means that you can combine the add-on additional services to your chosen package in order best fit your needs, (taxi, excursions, cleaning services…) , all for a minimum service fee :
Whatever you are looking for, we have one of our top professionals ready to work with you on a person to person basis. Have a specific request ? No problem, we're there to help you all the way – contact us.
Many additional services
Having developed multiple partnerships, Internship Makers offers English, Spanish or French courses, which you can easily combine with your internship. And why not think about adding on short day or night excursions, or even one of the many great plans for weekends to make your stay a really special one.
Fair prices
Internship Makers offers you complete packages, with personalized support and services responding to all your requirements, with fair prices. Moreover, our fees will be due only after Internship Makers received your training agreement signed by your host company.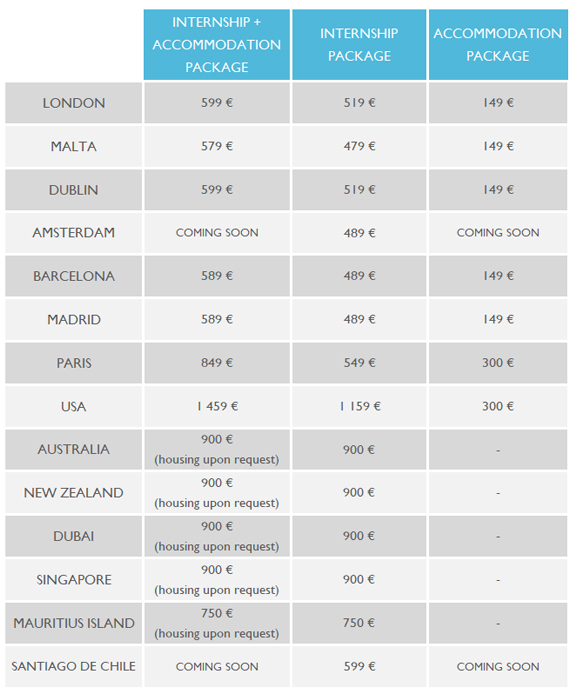 Internship Makers fees are fixed and only payable once (not monthly), they do not include the monthly rent of the accommodation (which may vary according to the destination / type of accommodation, and the rent is directly due to the owner).
Risk-free Registration
Internship Makers guarantees a full refund if for any reason we are unable to offer you an internship in your field. Moreover, all our services are governed by our terms and conditions.
All you have to do is just choose your dream destination and discover our different packages :